Warrior One of the first 3 Classes available when starting the game. Mainly used as the tank.
Edit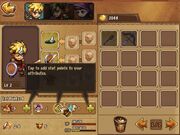 Attributes
Edit
When first created it has 5 Strength 1 Intellect 1 Agillity
Strength: +4hp, +1 to Max Damage
Intellect:+2hp
Agillity:+4hp, +1 to Min Damage
Equipment
Edit
A powerful melee fighter from the harsh Northlands of Alwin. He is an expert of various melee weapons that are forged with runes from mountain anvils, giving him various elemental strikes.